Arlington, Va. and Windsor, Conn. —  A new report, "Hispanic Americans: Life Insurance Ownership and Attitudes," shows that while 6 in 10 Hispanic Americans do not have life insurance, more than half (51%) say they have a need. This includes those with no coverage (40%) and those who do have life insurance but say they need more (11%). Together these represent 22 million Hispanic Americans living with a life insurance coverage gap.
The report, which is supplemental to the 2022 Insurance Barometer Study finds that several reasons contribute to Hispanics having the lowest ownership rates among all demographic groups. Top among them are cost (38%) and competing financial priorities (38%). Cost may be a perceived barrier to ownership; however, as 75% of Hispanic consumers overestimate the true cost of life insurance.
"Misconceptions around cost, what type, and how much to buy are more common among Hispanic Americans," said Alison Salka, Ph.D., senior vice president and director of LIMRA research. "As we celebrate National Hispanic Heritage Month, it is an opportunity for our industry to raise awareness around the affordability and benefits of life insurance and the important role it plays in a family's financial security."
Financial Concerns Lead to Delays in Obtaining Life Insurance
Not only is the need for life insurance greatest among Hispanic Americans, but they report greater financial concerns than the general population in every category presented. For many, the study finds these concerns take priority over their life insurance needs. Yet almost half of Hispanic Americans (48%) say they would feel financial distress from the death of a primary breadwinner within six months, and 28% said it would take a month or less.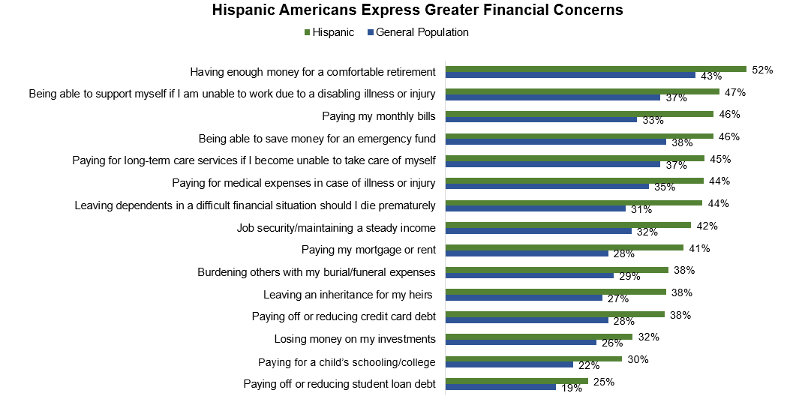 "Hispanic Americans who own life insurance feel more financially secure than those who don't — 68% versus 47%," said Maggie Leyes, chief creative officer at the non-profit Life Happens. "Life Happens launched bilingual educational resources for Hispanic Heritage Month to educate more people about how accessible and affordable life insurance is and help them to prioritize life insurance so they can protect their loved ones."
Study Methodology
In January 2022, LIMRA and Life Happens engaged an online panel to survey adult consumers who are financial decision-makers in their households. The survey generated 8,517 responses, including 1,499 Hispanic Americans.
About LIMRA
Serving the industry since 1916, LIMRA offers industry knowledge, insights, connections, and solutions to help more than 700 member organizations navigate change with confidence. Visit LIMRA at www.limra.com.
About Life Happens
Life Happens is a nonprofit organization dedicated to helping consumers take personal financial responsibility through the ownership of life insurance and related products. The organization does not endorse any product, company or insurance advisor. Since its inception in 1994, Life Happens has provided the highest quality, independent and objective information for people seeking help with their insurance buying decisions. The organization supports the insurance industry by providing marketing tools and resources through its Life Happens Pro platform, and convening the industry each September for Life Insurance Awareness Month. Life Happens is supported by more than 140 of the nation's leading insurance companies and financial services organizations. To learn more, visit www.lifehappens.org.
Media Contacts
KWT Global for Life Happens
lifehappens@kwtglobal.com